On Demand Class: Paint the Golden Gate Bridge with Kristen Olson Stone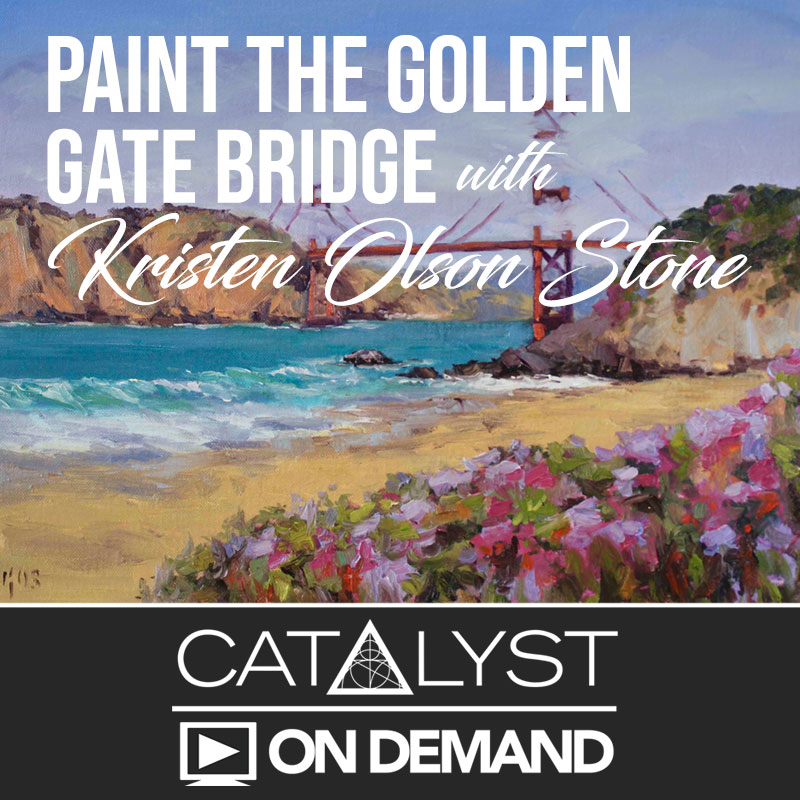 On Demand Class: Paint the Golden Gate Bridge with Kristen Olson Stone

Instructor: Kristen Olson Stone
Price: $65

In this online lesson Kristen Olson Stone will show you how to paint hte bridge, crashing waves, beach and sea rocks, sea cliffs, drifting fog, and colorful wildflowers. Learn how to paint from photos without copying them as well as how to make a variety of expressive brushstrokes. Kristen's palette is visible throughout the lesson. Also included are reference photos, composition diagrams, drawings and color notes. Best of all, this lesson comes with a person critique. Start and stop to fit your schedule. Once you sign up you own the lesson for a lifetime.

This lesson includes:
2-3 hours of paint along video instruction, reference photos and design diagrams, Palette notes, and one personal critique

This class is available via Teachable, you will need to create an account to access the class. The instructor will reach out within 24-48 hours after sign up with instructions on how to access the video and create an account. You will have access to this video forever.

Suggested materials:
You can use traditional oil paints, solvent-free oil paints or acrylics. You should have at least 1 blue, 1 yellow and 1 or 2 reds plus white. I usually like to have a warm and cool of each hue plus white. You can paint on any size canvas, I use a 12" x 9" in the video. Plus, paper towels, water or paint thinner and a variety of brushes.

Limited to 20 students. If the Quantity Available below is 0, this class is sold out.
SKU Number

ODCKP0109

MSRP

$65.00 / EA

Your Price

$65.00 / EA

Weight

0.00 LB

Quantity Available

19