Checking the Status of Your Order
There are several ways to check the status or your order. If you have an account on the site, you can log in and click Order Status in the Menu. If you call, please specify that the order was placed via the website, as it cuts down on the searching time and thus the time to get your answer.


Mail Order
If you would like to order via postal mail, you can either download the printable order form below, or browse this site and fill a cart, then print it, and mail it to us with a check or money order. Using the website cart will get you an accurate total for your purchase. If you don't have the ability to print, you could simply write down your list of items (including item number, description and price) and mail it to us along with a check or money order for your total. You may also place an order over the phone, which is convenient if you have any questions about particular products or policies. Our phone sales staff is VERY knowledgeable, and can guide you to the best products for your needs.
Click here
for a Printable Order Form
If you are not using the order form above, please include the following in your mailing:
Complete Shipping Information
Complete Billing Information - This includes the Name and Address of the person or company paying the bill.
Alternative forms of payment - If you want to use a gift certificate or giftcard to pay for your order, please provide the number. You could also charge your order by providing a credit card number and expiration date. We don't recommend this method as the U.S. Postal service is not the most secure system.
Items Ordered - For each item, please include:

Item number
Description
Quantity
Size/Color Information (if applicable)
Price
Total

Contact Information - the best way to contact you, in case there are any questions about your order.
Mail your order form to:
Art Supply Warehouse
Attn: Order Desk
6672 Westminster Blvd.
Westminster, CA 92683
Shipping Information
Generally all domestic orders are shipped via either UPS or USPS. P.O. Box or correctional facility shipments are required to be sent via USPS and may have limited tracking. International orders are typically shipped via USPS. Alaska and Hawaii are done on a case by case basis depending on who can offer the best rate for the package in question.
Shipping amounts are based on an estimated calculation from UPS. In some cases, an error in the database could cause the shipping amount to be wildly different than expected. We will adjust the amount accordingly.
International Orders -
You will be charged the actual shipping charges for your order. This can vary based on distance and weight. We'll find the best option and contact you to verify the order info and get your "Okay" on charges before shipping. Please provide a phone number and email for this purpose. Orders will not ship without verification and approval. Once you give your approval of shipping charges, we will reauthorize your payment for the appropriate amount.
Oversized Items -
In most cases, oversized items will be noted on the product page. These are items that are larger than UPS standard freight sizes, and may have to go via another method. In all cases, we will do our best to find the best price on getting these items to you and notify you ahead of time. Shipments by truck are generally delivered to your curb or loading dock. If you have special circumstances that require indoor delivery, assembly or other concerns let us know and we'll work with you to sort it out. If you have a concern about a particular item you want to order, please contact us and we'll figure it out for you.
Orders are generally processed within 3 business days. Shipping time after that is generally based on your proximity to our warehouse in southern California. See the map below for transit times.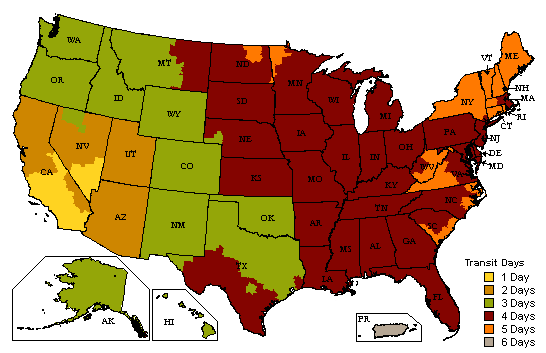 Expedited or Rush Shipping -
Expedited shipping options are available at additional cost. You will be charged the actual shipping rate. Please indicate how you'd like your order to go, or the day you need it to arrive, as well as a phone number in the special instructions upon checkout. We'll contact you to verify the costs and order information with you.
Shipping Restrictions -
Aerosols will not be shipped outside of the continental U.S.A.. Although rare, some hazardous materials, such as some heavy solvents, may also have limitations on shipping. If you are local to the store we will get it to you under normal operation, if you are outside of Southern California we may need to contact you to figure it out. Either way, we will do our best to work with you on the delivery.
Out of Stock Items & Backorders
On occasion, we run out of an item. Generally that item will be in stock shortly. However, if it just so happens that an item is not available when you place your order, we will notify you. At that point we can either ship the rest of your order immediately and backorder the missing item, or we can hold the order and ship it complete. If an item is backordered, it will be shipped to you as soon as it becomes available. We'll let you know when we expect the missing piece, and then it's your call.


Payment Options
We accept Visa, Mastercard, Discover, and American Express. Net-30 accounts may charge on the website, just as you would in person or on the phone. If you have a net-30 account, please contact us so we can ensure your website account is set up properly for you. Sorry, we do not offer C.O.D.


Returns, Damages & Defective Items
Returns are generally accepted up to two weeks after you receive your order. However, we always do our best to work with you. Contact us and let us know the situation.

If you receive damaged or defective items, let us know right away and we can work out the best solution for you. We may or may not need a damaged or defective item to be returned. We might send you a replacement item or refund you for the product, depending on how you would like resolution.


Large Orders & Bid Orders
If you are looking to place a large order, especially for a lot of one or a kit of items, contact us and we might offer you better pricing on the items, or we might offer you more cost-effective alternative items that will still meet your needs. We would love to have the opportunity to win your business. We love to be competitive, and we love to be on the top of your go-to list, so for you this means we are willing to do whatever we can to make sure we get and keep your business. So tell us what you need, what is your plan? Tell us who you are and we'll do our best to make sure we get you the best prices on your supplies. Please contact us with your item list via phone or email. Don't forget to provide your contact information as well.

Art Supply Warehouse
6672 Westminster Blvd.
Westminster, CA 92683

Email: orderdesk@artsupplywarehouse.com
Phone: (714) 891-3626 or (800) 854-6467
Fax: (714) 895-6701


School Accounts
If your school or you as a teacher purchase large quantities of art supplies and materials throughout the year, then there are ways we can help make your purchasing easier and more fruitful. In addition to offering net-30 accounts to make your purchasing easier, there is also an additional discount for accounts who pay on time. We can set up custom accounts with supply kits, special pricing, special delivery terms or probably anything else you need to make your job easier. For example, we've brought in materials that teachers weren't able to find elsewhere. We work with many schools and teachers on an open PO basis, allowing them to purchase their supplies when they need them throughout the year. In short, we want to work WITH you. Without the support of educators, we would be dead in the water, so let us know who you are because we want to make you happy.


Net 30 Accounts
If you have a Net-30 account with Art Supply Warehouse you may charge on the website just as you would in person or on the phone. Please contact us so we can ensure your website account is set up properly for you. You must sign in to charge an order to your account.

If you do not have a Net-30 account and would like to open one, please contact us and we'll be happy to get that process started for you.


Distribution
We offer the ability to open a special wholesale account. If you are a brick-and-mortar retail reseller, let us know, perhaps we can help you. We can supply you with the art materials you need at a strong discount, in many cases better than most other distributors. Contact us and we'll give you the lowdown. If you are an instructor or are otherwise looking for better "bulk" pricing, whether for personal use or resale, see the Large Orders & Bid Orders section above.


Safety Data Sheets
You can find the MSDS sheets for many products on the product pages on this site. If you need one for a product that does not have one here, please contact us and we'll get it for you. We are in direct contact with all of the manufacturers of the products we sell, so if there is any question of toxicity or other danger, just ask and we'll email it to you right away.


Privacy
At Art Supply Warehouse we want you to be able to shop worry free. While we do store some of your information, rest assured we will never sell or trade it to other companies or persons. We hold your information for two reasons, to make it easier for you to order from us to notify you of sales and happenings at Art Supply Warehouse. That's it. And if you don't want to know about sales, then just let us know, and we'll make sure you aren't on the mailing lists.