Mexican Pottery Terra Cotta Self-Hardening Clay 5lb Box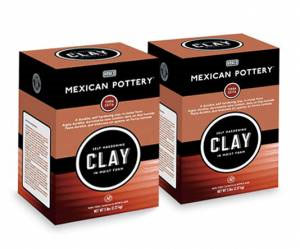 This red, self-hardening modeling clay is prepared in moist form, ready to use
for all methods of modeling, including wheel throwing and sculpting.

When completely dry, finished pieces are durable but not waterproof.
Knead Mexican Pottery Clay to increase plasticity before modeling.

Clay shrinks during drying, so it is best to hollow out bulky sculptures or wrap
a slab of clay around a loose crumpled paper armature before modeling.

Allow the finished piece to dry slowly and evenly on all sides at room temperature
and away from heat until hard. When piece is completely dry, decorate with AMACO Rub 'n Buff, school paints, temperas, acrylics or liquid crayons.

Keep unused clay in a plastic bag or wrapped in damp cloth to prevent drying out.
SKU Number

AMA48652

List Price

$18.75

Unit

/ EA

Your Price

$13.31

Buy More Price

Weight

5.00 LB

Package Dimensions

6.00" x 4.10" x 3.75"

Quantity Available

4