FLUID 8 COLOR SET 1/2oz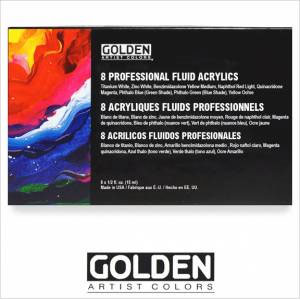 FLUID 8 COLOR SET 1/2oz

Golden Select Professional Fluid Acrylic 8 Set #918. Includes (8) -1/2 fl. oz. (15 ml) Fluid Acrylic Cylinders . GOLDEN Fluids are versatile, with high tinting strength, flexibility and durability on many surfaces. The colors in this set are recommended for color mixing, tinting, and shading.

Specifications:
- Contains:
Benzimidazolone Yellow Medium, Naphthol Red Light, Quinacridone Magenta, Phthalo Blue (GS), Phthalo Green (BS), Yellow Ochre, Zinc White, Titanium White, Color Mixing Guide and Fluid Application Guide.
SKU Number

GLD0918-0

MSRP

$41.29 / ST

Your Price

$28.90 / ST

Weight

0.75 LB

Quantity Available

7