Faber-Castell Limited Edition Cassette 396 Set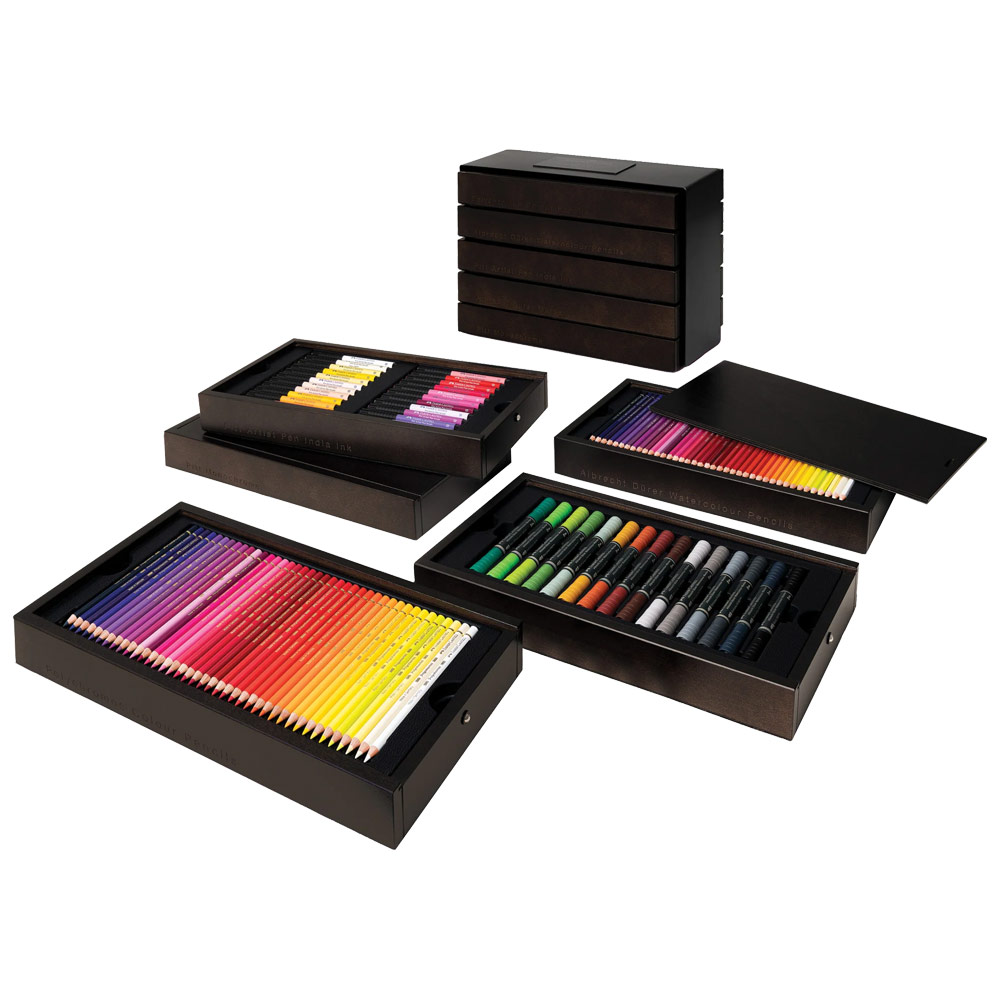 Faber-Castell Limited Edition Cassette 396 Set


To commemorate the extraordinary milestone of 260 years, Faber-Castell offers the best of the Art & Graphic assortment combined in an elegant compilation, especially manufactured in Germany for this occasion! Corresponding to the founding year of Faber-Castell, production is limited to 1,761 anniversary wood cases. Each set is individually numbered and is one of a kind.
With almost 400 selected creative products from the range, Faber-Castell covers the entire fascinating color palette--guaranteeing reliable quality for the highest artistic demands. The collection is sure to exceed the expectations of the professional and adult artist looking for premium quality, durability and variety in their art supplies.
Attractive and functional; timelessly elegant and purist design. The mix of wood, powder-coated stainless-steel and acrylic glass gives this set a very modern, sophisticated look. The Limited Edition is made from birch and beech wood from German forests. It is 100% PEFC, meaning the wood comes from certified, sustainably managed forests. The wood possesses an incomparable wealth of variations thanks to its unique grain, complimented by the dark wenge stain in a satin matte finish. This along with the serial number, makes each cassette unique.
The five individual cassettes can be removed completely, making the premium art products housed inside easily accessible and enjoyable to use.
Contents include: 396 selected Art & Graphic products: 120 x Polychromos Color Pencils, 120 x Albrecht Durer Watercolor Pencils, 30 x Albrecht Durer Watercolor Markers, 66 x Pitt Artist Pens, 12 x Castell 9000 Graphite Pencils, 5 x Castell 9000 Jumbo Pencils, 6 x Pitt Graphite Matte Pencils, 5 x Graphite Aquarelle Pencils, 3 x Pitt Graphite Pure Pencils, 3 x Pitt Graphite Crayons, 4 x Pitt Pastel Pencils, 4 x Pitt Oil-base Pencils, 3 Pitt Natural Charcoal Pencils, 3 x Pitt Compressed Charcoal Pencils, 3 Blending Stumps, 2 x Paintbrushes, 2 x Metal Sharpeners, 2 x Erasers, 1 x Perfection Eraser Pencil, 1 x Sharpening Knife & 1 x Sandpaper Block.
SKU Number

FAB110052

MSRP

$2,500.00 / ST

Your Price

$1,999.99 / ST

Weight

0.00 LB

Quantity Available

1